Protect Your Lighting investment with a whole house surge protector
Simply investment pays big dividends
Upgrading to the LED light bulbs can save on energy costs. Jane Clark recomends that you protect your savings and your initial investment with a whole house surge protector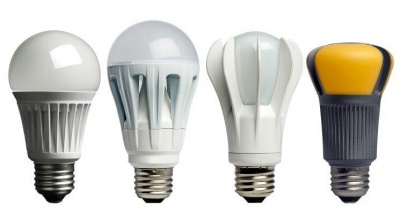 Light bulbs have gone from horribly inefficient 100 year old incandescent technology (typically 75 watts to 100w per bulb) to compact florescence lights (15w-25w p/bulb) to solid state LED (Light Emitting Diode) lights that typically consume less than 8 watts per bulb. LED Semi-Conductor bulb technology operates on low DC voltages that is manufactured inside the bulb itself through AC rectification circuits. AC voltage spikes imported from utility company transmission lines can easily damage semi-conductor devices if said voltage spikes are not properly filtered before coming into your home. Most people now a days have surge protection devices throughout their homes to protect media equipment, computers and expensive Flat Screen TV's, but what about surge protection for your home's expensive LED lighting system, AC System and many every day appliances that do not have individual surge protection devices to plug into?

Today's 3500sqft home can easily cost $1500 or more to switch over to all LED lights and just one bad spike from a Texas thunderstorm can wipe out these expensive LED lights.
ADD A WHOLE HOUSE SURGE PROTECTOR AT YOUR BREAKER BOX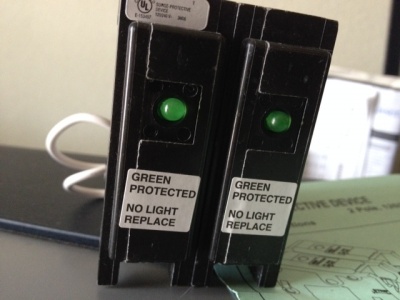 Barring a direct lightning hit, a whole house surge protection device that plugs into you main Power Distribution Panel and looks similar to a standard circuit breaker, can filter all incoming AC power and safely remove voltage spikes before they can do damage to unprotected lighting and other electronic appliances. With a single plug in protection device, you protect your entire AC distribution system, all TV's, Sound, Media, Network and Computer devices. Cool!

Absent a direct lightning strike, your whole house surge protection device should be all the protection you need to help prevent the loss of expensive in home components. When you think about the $250 charge to have a licensed electrician install this surge protection device into your AC panel, that charge pales in comparison to the cost of replacing valuable electronic devices and appliances throughout your home.
The "UNPROTECTED" List Found in Most Homes Today
Ovens
Microwave
Diswasher
Washing Machine
Dryer
Direct Vent Electronic Fireplace Systems
Computer Controlled Coffee Centers
AC Compressors and In-attic units
Alarm Systems including Video Cameras
Advanced Lighting Systems including CFL's and LED Lights
Lighting controls and lighting timers
Garage Door Openers
Once you create a Free Account on our dedicated cloud server, you can easily save unlimited customized searches that run automatically each day and alert you to important changes affecting listings that match your search criteria. You can also create a special list of your favorite listings, share them with family members or friends, and get timely emails about changes to your saved favorites. You can create your Free Account Here
About the Author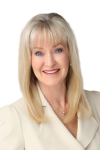 Meet Kw North Texas Realtor Jane Clark. Jane is the lead Real Estate Agent behind the Jane Clark Realty Group LLC. Jane is not only a licensed Realtor specializing in Residential Properties in North Texas; she is also a Keller Williams Certified Luxury Home Specialist. This training and her unique skillset, combined with 22 years of Practical Experience in the North Texas Real Estate market has made Jane a potent force in the Dallas North Texas Real Estate market.
Jane has won many awards in her long and prosperous Real Estate career. The hallmark of skill and competence in the local Real Estate market has been D magazine's coveted Best Realtor Award. Beginning in 2006 Jane has won that award every year. Jane is most proud of her status as a Top 5 Elite Regional Producer for Keller Williams three state regional franchise. Jane has been nominated as one of the Top 1000 Realtors in the United States by the Keller Williams National Organization. Living Magazine has selected Jane as both the Best North Texas Realtor and the Best Collin County Realtor. Prosper Living magazine nominated the Jane Clark Realty Group LLC as the Best Prosper Texas Realtor and the Best Fairview Texas Realtor. Texas monthly magazine named Jane Clark as a 5 star professional (2012-2018)
Jane won the Keller Williams North Texas, Top Producer of the Year (2010-2020), She was named one of the most successful Real Estate Agents in North Texas by Inside Collin County Business, (2002-2014). Jane won Keller Williams North Collin County Top Individual Outstanding Achievement in 2009-2018; Keller Williams North Collin County, Gold Outstanding Team Achievement in 2009 and Double Gold Outstanding Achievement 2010 – 2020. The Jane Clark Team was the top producing team in 2013-2020).
If you need an experienced professional Realtor with a reputation for Results in
McKinney Real Estate
Allen Texas Real Estate
Prosper Texas Real Estate
Fairview Texas Real Estate
The Jane Clark realty Group just might be the Best Real Estate Agent for you.
Kw North Texas Realtor Jane Clark is a top 5 elite Regional Producer. She was No. 4 out of 4000 agents. If you are looking for the Best North Texas Realtor ... Call her First
Article created by
Jane Clark
in the 
Featured Homes Category.
This email address is being protected from spambots. You need JavaScript enabled to view it.