Jane Clark Search Tools
Your Collin County Home Search is easy with Jane's Advanced Search Tools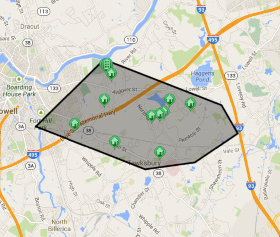 Hello and Welcome …
I'm Jane Clark, Your guide on this tour of what we believe to be the Best Realtor Search site for Homes for Sale in McKinney, Texas. We target some of the best areas in Collin County for YOU, so your home search is as easy and efficient as possible.
Polygon Map Tool
Many home buyers come to us who want to live in a specific area in a given town or towns. While many cookie cutter home searches return the results from an entire town, it can be cumbersome for home buyers to sort through all the results to see if a given home is in an area that satisfies their criteria. The larger the town and the more homes available for sale, the harder it is to sort through the available homes. This is particularly true in areas where school districts overlap or access to desirable amenities is along a city border.
The Jane Clark polygon tool for my web-based map search solves that issue. It helps you refine your search for homes in specific McKinney Real Estate areas, as well as the rest of Collin County. My Polygon search simultaneously uses a map based, as well as a list based search to assure that my clients can easily locate desirable Collin County real estate.
The Jane Clark polygon search tool will let you draw a defined area on a map and will only return the homes to you in the area you specified. It is as simple as clicking on the tool and using your mouse to draw a line around your desired area.
Did you know? Jane Clark is a KW North Texas certified Luxury Home Specialist. Jane understands the special needs of the Luxury Home Market
Have you registered?
If you have registered on my search site, you can also have the added benefit of including additional criteria such as price range, type of house, number of bedrooms, number of baths, etc… So again you are not bogged down with homes that don't fit your criteria. You can also save your search so it can be pulled up easily every time you log-in, as well as have any new home stats emailed to you daily or fed into an RSS feed. My online home search will allow you to save any number of searches to help you organize your home search.
Preconfigured Search Tool
But there are even more ways we made it extremely easy for you to see what is available on the NTREIS MLS system thru a series of preconfigured subdivision searches and school district searches that you will find in my Favorite Places Blog as well as at the end of most articles relevant to the area. You can see one at the end of this article. The multiple tabs allow you to navigate easily through the most popular cities, the subdivisions within the city, and in many cases, the desirable school districts.
Need more help? Need to schedule a showing before that prime piece of Prosper Real Estate is sold to someone else? My talented and experienced Buyer Agents are standing by to show you why the Jane Clark Realty Group has one of the Best Reputations for Results.
Buying your new home through Jane Clark Realty can pull thousands of dollars back to your side of the negotiating table. You may think that buying without an agent will save you money. In truth you are leaving thousands of dollars on the closing room table and missing the services of a skilled, experienced and knowledable negotiator. Even better , our costs add nothing to the price of your new home, Call Jane Clark @ 214-802-4680 and put her to work for you.
Taxonomy; Best Prosper Tx Realtor Search, Best McKinney Tx Realtor Search, Best Allen Tx Realtor Search, Best Fairview Tx Realtor Search, Best Frisco Tx Realtor Search
Related Articles
Search module

Once you create a Free Account on our dedicated cloud server, you can easily save unlimited customized searches that run automatically each day and alert you to important changes affecting listings that match your search criteria. You can also create a special list of your favorite listings, share them with family members or friends, and get timely emails about changes to your saved favorites. You can create your Free Account Here