Do's and Don'ts of adding Curb Appeal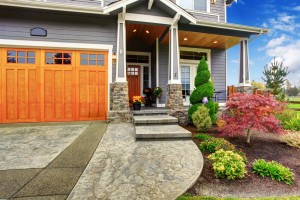 Curb appeal means the aesthetic charm of a home when first seen from the road according to the Urban Dictionary. Another definition says it's the attractiveness of the exterior of a residential property. However you define curb appeal, we all want it. You don't need to wait until your house goes on the market to cultivate this allure either. Start making your home's exterior and landscape enticing before the time comes to sell it.
Curb Appeal
Do the Following
Spiff Up the Front Door: A fresh coat of paint in red, green, blue or whatever color gives off the same vibe as your house's interior says this home has personality. A swag or generic wreath also ups the ante and decreases the boring look many front doors portray. Polish any metal doorknobs, knockers or bells.
Manicure the Front Yard: Trim hedges, bushes and any grass that has grown over the sidewalk or paths. Fill containers with bright, colorful, blooming flowers.
Add Mulch: Dress up your flower beds with beauty bark or some other protective covering.
Light the Way: Visitors and prospective buyers like to see where they are going. Choose solar lamps to show how much you care about the environment.
Change Numbers: Install new house numbers big enough for first responders to see easily and attractive enough to make a good first impression.
Upgrade the Driveway: Redo the concrete if the old is cracked and spread a new load of gravel for a refreshed look.
Buy a New Mailbox: Throw out your old mail receptacle if it's dented, chipped or doesn't close properly. Get one that locks so your mail and that of the next homeowner stays secure.
Install Art Outside: Add what fits best into your garden design like wind chimes, birdbaths, a water feature or sculptures. Be sure these pieces are weather-resistant.
Not everything you do automatically increases curb appeal so plan your strategy to avoid making big mistakes.
Don't Do the Following
Make the Entrance Puzzling: You don't want visitors to have to guess which door is the front one. The entrance should be obvious, warm and inviting.
Plant Annuals in Front: Instead use perennials that last to power up and beautify your landscape.
Follow Weird Trends: Hardscaping the entire yard, using colored mulch and trimming hedges into shapes of ex-presidents all come to mind as being turnoffs to potential buyers.
Veer Away From the Neighborhood Style: You don't want to have the home people point to and say, "what was he thinking?" Instead your house should harmonize with those around it.
Plant Close to Walkways or the House: Hedges hanging over paths or walkways look unkempt. Trees that seem small when sowed into the ground can grow very large with a root system that can disturb your foundation.