KonMari Method- Decluttering your Home
Preping your home for sale
One of the biggest challenges sellers face when listing their house is decluttering. Cleaning out some of the more personal decorating choices allows buyers to imagine themselves living in the house.
Those planning to sell soon are in luck! Marie Kondo, the inventor of the KonMari Method of Tidying Up, has gained popularity with her new Netflix series. She gives some great tips for sorting through years of accumulated possessions that we all collect in our homes.
"The KonMari Method™ encourages tidying by category – not by location – beginning with clothes, then moving on to books, papers, komono (miscellaneous items), and, finally, sentimental items. Keep only those things that speak to the heart, and discard items that no longer spark joy. Thank them for their service – then let them go."
When you subjectively look at all of your belongings, you can sort through the ones that mean the most to you. Not only will you increase space for more joy-bringing items in your new home, but you will also have a much easier time packing remaining belongings!
"Remember, tidying up isn't about getting rid of stuff. It is about creating an environment that sparks joy and improves your quality of life."
When selling your house, first impressions matter! Before you or your agent schedule a photographer to take photos for your listing, make sure to tour your home with fresh eyes. Look for any imperfections that a buyer might notice.
When you sort through your more sentimental items, consider packing them away to ensure that you know where they all are. That way, they are safe during open houses and showing appointments. This will also cut down on the amount of packing you need to do right before you move!
Bottom Line
Whether you are selling your house to move up to a larger one, downsizing, or moving in with family, only bring the items that truly spark joy for you. This will not only help cut down on the items you move but also ensures that you're off to a great start in your new home!
About the Author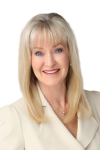 Meet Kw North Texas Realtor Jane Clark. Jane is the lead Real Estate Agent behind the Jane Clark Realty Group LLC. Jane is not only a licensed Realtor specializing in Residential Properties in North Texas; she is also a Keller Williams Certified Luxury Home Specialist. This training and her unique skillset, combined with 22 years of Practical Experience in the North Texas Real Estate market has made Jane a potent force in the Dallas North Texas Real Estate market.
Jane has won many awards in her long and prosperous Real Estate career. The hallmark of skill and competence in the local Real Estate market has been D magazine's coveted Best Realtor Award. Beginning in 2006 Jane has won that award every year. Jane is most proud of her status as a Top 5 Elite Regional Producer for Keller Williams three state regional franchise. Jane has been nominated as one of the Top 1000 Realtors in the United States by the Keller Williams National Organization. Living Magazine has selected Jane as both the Best North Texas Realtor and the Best Collin County Realtor. Prosper Living magazine nominated the Jane Clark Realty Group LLC as the Best Prosper Texas Realtor and the Best Fairview Texas Realtor. Texas monthly magazine named Jane Clark as a 5 star professional (2012-2018)
Jane won the Keller Williams North Texas, Top Producer of the Year (2010-2020), She was named one of the most successful Real Estate Agents in North Texas by Inside Collin County Business, (2002-2014). Jane won Keller Williams North Collin County Top Individual Outstanding Achievement in 2009-2018; Keller Williams North Collin County, Gold Outstanding Team Achievement in 2009 and Double Gold Outstanding Achievement 2010 – 2020. The Jane Clark Team was the top producing team in 2013-2020).
If you need an experienced professional Realtor with a reputation for Results in
McKinney Real Estate
Allen Texas Real Estate
Prosper Texas Real Estate
Fairview Texas Real Estate
The Jane Clark realty Group just might be the Best Real Estate Agent for you.
Kw North Texas Realtor Jane Clark is a top 5 elite Regional Producer. She was No. 4 out of 4000 agents. If you are looking for the Best North Texas Realtor ... Call her First
Article created by
Jane Clark
in the 
Featured Homes Category.
This email address is being protected from spambots. You need JavaScript enabled to view it.