McKinney Texas - Cnn's best Place to Live
Jane Clark
Neighborhood

McKinney, Texas - The #1 Best Place to Live in America by Money Magazine
It's official – McKinney is the best place to live in the country. Money magazine revealed its "Best Places to Live in America" list, and McKinney ranks #1.

McKinney earned this distinction based on housing affordability, education, arts and culture, safety, health care, diversity and the economy, including the fiscal strength of the government. McKinney ranked #2 in 2012, #5 in 2010 and debuted on the list at #14 in 2008. In the Best Places to Live listing, Money magazine editors and writers rank cities with populations between 50,000 and 300,000 every other year.
In a country so full of great places, choosing the best is no easy task…Underlying McKinney's homey Southern charm is a thoroughly modern city. The area is a hotbed for growth-industry jobs…Career and college prep are big in McKinney's schools. -Money Magazine
McKinney awards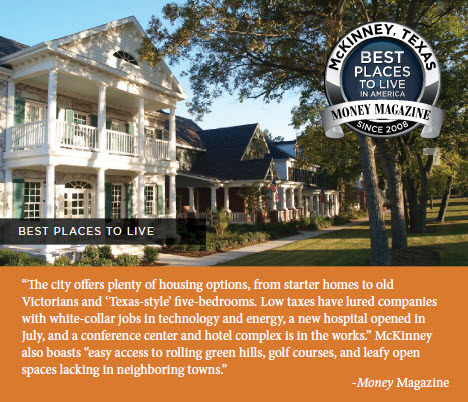 McKinney Texas is an extrodinary place to live and work. Yes, Mckinney is unique by nature and many in the media and governmental sectors have noticed. It is no wonder McKinney Texas continues to make many of the most prestigious lists rating us as the one of the best Places to live and work.

Since 2008, McKinney has been rated among the top 15 on the Best Places to Live in America list, published by Money Magazine every other year. In the August 2012 issue of Money, McKinney was listed at No. 2, the only Texas city in the top 10. Editors and writers review employment, schools, safety and overall quality of life aspects to come up with their top cities. McKinney stood out due to beautiful natural parks and open spaces, affordable and diverse housing, plenty of available jobs and a vibrant downtown. In 2014 McKinney moved up to the No.1 Best Place to live in America. No wonder Mckinney Real Estate is the one of the Best investments you can make.

The McKinney Public Library System received the Texas Municipal Library Directors Association Achievement of Excellence in Libraries Award for the ninth straight year.

McKinney was rated by NerdWallet.com as the #4 Best City in Texas for Job Seekers. NerdWallet.com analyzed Texas cities based on Census data about growth in populations of potential workers over age 16, median income and unemployment rate.

The city Planning Department received the Celebrating Leadership in Development Excellence (CLIDE) Award from the North Central Texas Council of Governments. The regional CLIDE award was earned for the comprehensive implementation strategy (Phase 2) of the McKinney Town Center Study Initiative. The city earned the same honor for Phase 1 of the study in 2009.

WalletHub named McKinney as the #7 Best City in the USA for First-Time Homebuyers, WalletHub compared the 300 largest U.S. cities to determine those most and least attractive to first-time homebuyers, The ratings were based on a series of important Real Estate metrics such as median house prices and real estate taxes to median home price appreciation and price-to-rent ratios.

Some Typical Homes currently available


Related Searches for your convenience.
Once you create a Free Account on our dedicated cloud server, you can easily save unlimited customized searches that run automatically each day and alert you to important changes affecting listings that match your search criteria. You can also create a special list of your favorite listings, share them with family members or friends, and get timely emails about changes to your saved favorites. You can create your Free Account Here
Related Articles
Adriatica In Stonebridge Ranch
Craig Ranch in McKinney Texas
Settlement in Craig Ranch
Stonebridge Ranch McKinney Tx
Some Featured Collin County Listings
1805 Highview Court, Provine Farm Estates, McKinney
501 St. Gabriel Way McKinney, TX
1201 Hidden Meadow Road, Lakeside Crossing, Stonebridge Ranch, McKinney
714 Parker St, Historical District, McKinney
2604 Woodland Court, Village of Eldorado, McKinney
1601 Roxboro, LaCima Manor, Stonebridge Ranch, McKinney
2720 Hidden Forest Dr, McKinney
605 Denton Creek Dr, Sorrellwood Park, McKinney
4104 Muscovy Drive, Mallard Lakes, McKinney
1820 Meadow Ranch Rd, Meadow Ranch McKinney
6928 San Juan Trail, Stone Hollow, McKinney
6312 Castle Rock Drive, Ridgecrest, McKinney
3605 Trinidad Drive, Park Ridge, McKinney
5617 Ridgepass Lane, Robinson Ridge, McKinney
6812 Radio Flyer Dr, Saddlehorn Ridge,Stonebridge Ranch, McKinney
714 W Lamar St, Historical District, McKinney
1813 Hackett Creek Drive, Fieldstone Place, Stonebridge Ranch, McKinney, Tx
1413 Meadow Ranch Rd, Creekview Estates, McKinney
6317 Valley View Dr, Ridgecrest, McKinney
2308 Therrell Way, Hidden Creek, McKinney
2801 Doe Run, Fawn Hollow, McKinney
6209 Mesquite Trail,Trails of 1827, McKinney
2403 Crestview, McKinney, Texas
5737 Touchstone Drive, Brookstone, McKinney
4719 Meadow Ridge Circle, Stonebridge Ranch, McKinney
1909 Buckingham Street, Regents Park, Stonebridge Ranch
2044 Sako Drive, Plano, Tx
7725 Lake Worth Cove, Trinity Falls, McKinney
2401 Hogans Hill, Cascades, Stonebridge Ranch, McKinney
4604 Moonlight Drive, Creekview Estates, McKinney
5909 Chisholm Trail, Saddle Club, McKinney
3009 Ridgeway Dr, Robinson Ridge, McKinney
1233 Northlake Drive, Richardson, Tx
4405 Moonlight Drive, Creekview Estates, McKinney
5800 Vineyard Lane, Eldorado Heights, McKinney
2841 Laurel Oak Dr, Heatherwood, McKinney
112 Falcon Creek Drive, Falcon Creek, Stonebridge Ranch, Mckinney
1501 Canyon Wren, Wren Creek, Stonebridge Ranch
7750 Alto Caro Drive, Richardson Heights Estates, Dallas
3201 Gillespie Road, Hidden Creek, McKinney
2636 Valley Creek Trail, Sunset Ridge, McKinney
821 Cloister Way, Chapel Hill, McKinney
1909 Deerfield Drive, Deerfield, Plano, Texas
501 Blue Spring Dr, Stone Brooke Crossing, McKinney
5229 Arrowhead way, Stonebrooke Crossing, McKinney, Tx
112 Poppy Lane, Westwood Park, McKinney
2803 Bradford Oaks, Bradford Ridge, McKinney
7612 Uvalde Way, Virginia Parklands, McKinney
1601 Milsap, Fieldstone Place, Stonebridge Ranch
9205 Regal Oaks Dr, The Summit at Westridge, McKinney
817 Golden Nugget, The Greens of McKinney, McKinney
2803 Pheasant Run Dr, Pheasant Run, McKinney
408 Twin Knoll Drive, Trinity Heights, McKinney
2829 Woodson Drive, Willow Brook, Stonebridge Ranch
1000 Throckmorton St McKinney
5232 Stone Brooke Crossing, Stone Brooke Crossing, McKinney
9948 George Washington, Eagles Nest at Westridge, McKinney
1307 West Street, McKinney
7113 Planters Row Drive, Harvest Bend, McKinney
575 S. Virginia Hills #4102, Villas of Westridge, McKinney
2720 Mountain Creek Dr, McKinney, Tx
About the Author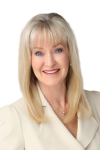 Meet Kw North Texas Realtor Jane Clark. Jane is the lead Real Estate Agent behind the Jane Clark Realty Group LLC. Jane is not only a licensed Realtor specializing in Residential Properties in North Texas; she is also a Keller Williams Certified Luxury Home Specialist. This training and her unique skillset, combined with 22 years of Practical Experience in the North Texas Real Estate market has made Jane a potent force in the Dallas North Texas Real Estate market.
Jane has won many awards in her long and prosperous Real Estate career. The hallmark of skill and competence in the local Real Estate market has been D magazine's coveted Best Realtor Award. Beginning in 2006 Jane has won that award every year. Jane is most proud of her status as a Top 5 Elite Regional Producer for Keller Williams three state regional franchise. Jane has been nominated as one of the Top 1000 Realtors in the United States by the Keller Williams National Organization. Living Magazine has selected Jane as both the Best North Texas Realtor and the Best Collin County Realtor. Prosper Living magazine nominated the Jane Clark Realty Group LLC as the Best Prosper Texas Realtor and the Best Fairview Texas Realtor. Texas monthly magazine named Jane Clark as a 5 star professional (2012-2018)
Jane won the Keller Williams North Texas, Top Producer of the Year (2010-2020), She was named one of the most successful Real Estate Agents in North Texas by Inside Collin County Business, (2002-2014). Jane won Keller Williams North Collin County Top Individual Outstanding Achievement in 2009-2018; Keller Williams North Collin County, Gold Outstanding Team Achievement in 2009 and Double Gold Outstanding Achievement 2010 – 2020. The Jane Clark Team was the top producing team in 2013-2020).
If you need an experienced professional Realtor with a reputation for Results in
McKinney Real Estate
Allen Texas Real Estate
Prosper Texas Real Estate
Fairview Texas Real Estate
The Jane Clark realty Group just might be the Best Real Estate Agent for you.
Kw North Texas Realtor Jane Clark is a top 5 elite Regional Producer. She was No. 4 out of 4000 agents. If you are looking for the Best North Texas Realtor ... Call her First
Article created by
Jane Clark
in the 
Featured Homes Category.
This email address is being protected from spambots. You need JavaScript enabled to view it.